Growing up in California, fresh salsa was found at every table, at every meal. I learned at an early age that a really great salsa is always fresh, made with ripe tomatoes, real chilies and only the freshest ingredients.
"Made locally in Melbourne, our fresh salsas are the unique and healthy alternative to saucy, mass-produced brands."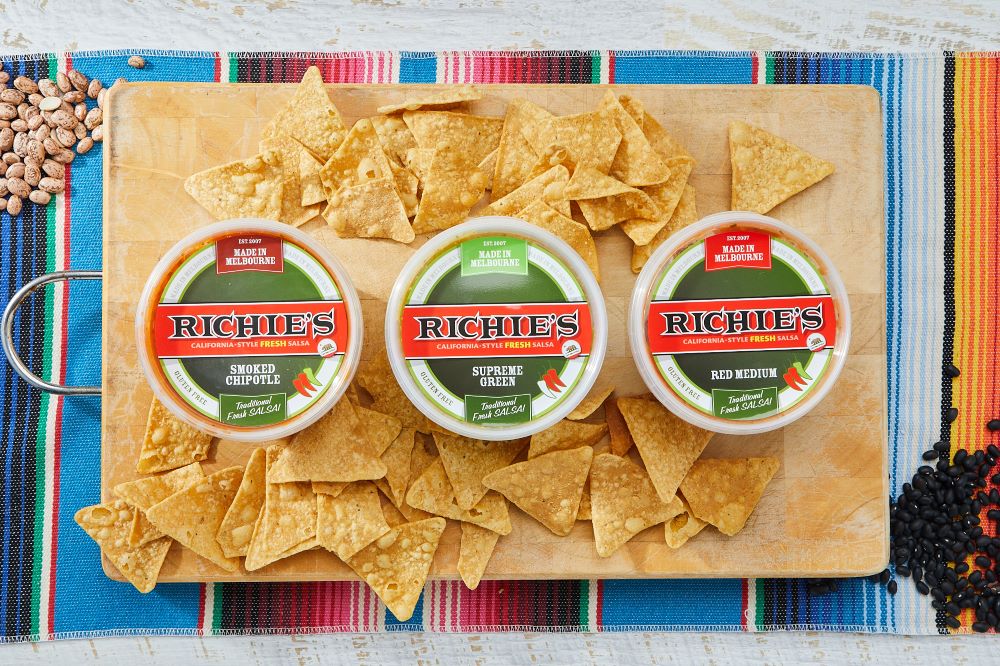 Find Richie's salsas in independent grocery stores across Melbourne.
Corn chips and salsa are a sensational pair, but salsa adds delightful flavour and texture to many dishes and complements just about everything. Enjoy our salsas as a snack, a complement to your dishes (Mexican and non-Mexican), or with our delicious burritos for a complete California Style experience. With no artificial preservatives, colours or flavours, Richie's salsas are all gluten-free and dairy-free.
Salsa has a rich history that can be traced back to the indigenous Aztec, Mayan and Inca civilisations. Their land was rich and perfect for growing tomatoes. They would combine tomatoes, chilies and other spices to add a wonderful flavour to their food. This wonderful condiment from ancient indigenous civilisations was discovered during the Spaniard's conquest of Mexico (1519-1521). Azetec lords passed the tradition of salsa to Spaniards, who passed these traditions to Central America and eventually the United States.
Traditional fresh reds
Deliciously authentic, Richie's fresh reds are available in mild, medium and hot. Made with ripe tomatoes, fresh coriander, jalapeno and habanero chilis and freshly squeezed lemon juice as a natural preservative.
Mild has a thicker texture and is child-friendly with deseeded chilis. Medium wins the fresh red popularity contest if you like a bit of heat – it's hotter than the average jarred medium salsa. Hot is a step up. You'll notice a delayed heat that doesn't overpower the flavour of the food you're eating it with. It serves some heat without melting your shoes!
Smoked chipotle
Richie's Smoked Chipotle salsa is made with ripe tomatoes, fresh coriander, chipotle, jalapeno and habanero chilis, and freshly squeezed lemon juice as a natural preservative.
The smoky goodness of chipotle chilis makes this our most popular salsa. Aside from chip-dipping, this is great for putting on burgers or adding a fresh-roasted flavour to your favourite meal.
Supreme green
Tangy and slightly smoky, the wonderfully complex flavour of Richie's Supreme Green salsa verde is made with tomatillos, jalapeno and chipotle chilis and fresh coriander.
The tangy flavour comes from the tomatillos, which are fruits that look like green tomatoes but aren't actually tomatoes at all. Chipotle provides the slightly smoky flavour. A wonderful accompaniment to omelettes, grilled meats, fish, pesto pasta and delicious as a salad dressing.